Go For It…Live! by Fu Manchu, reviewed by G.E. Pedretti
---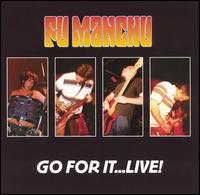 Having seen Fu Manchu live twice before, I can testify that it is a very hit-or-miss proposition.
The first time I saw the Fu was in 1996 at First Avenue, Minneapolis, with an incredible quad-bill that also featured Clutch, Orange 9MM, and Core. I was a huge fan of Fu Man's first full-length album, No One Rides For Free, and my expectations were high. It was a massive disappointment. I know it's called "stoner metal" for a reason, but this was a little excessive. They played as if someone had to pry them from the couch backstage; they were barely awake or barely even there. They moved like the proverbial molasses in minus-thirty degree weather. My friends and I screamed for "Ojo Rojo," but they didn't deliver. However, 70s hipster points were scored for: a) vintage Ludwig Vistalite drumkit (the see-through acrylic set made popular by John Bonham in The Song Remains the Same), and b) huge mutton-chop sideburns.
The second time I saw the Chu was in 2002 at the Rave in Milwaukee, with Injected. We only went because my friend had free tickets; we expected it to be pretty bad given our previous experience. We were blown away. The energy was incredible, with everyone jumping around on stage as if animated by a puppeteer with a bullet vial. Milwaukee is much more of a metal town, and the crowd was really into it. It appeared that West Allis High wrestling team alumni were well represented. One alumnus even mentioned "Ojo Rojo" before nearly taking my head off with his meaty pipes (in a semi-retarded attempt to start a mosh pit). We screamed for the "red eye" ourselves again, but we still didn't get our wish. 70s hipster points were scored for: a) use of a vocoder/talkbox on "The Wastoid" (think Frampton Comes Alive!). 80s California hipster points were scored for: a) vintage OP attire.
So we are quite lucky that Go For It...Live! documents that same 2002 California Crossing tour. The song selection hits most every album in the Fu discography, however (and it turns out they did play "Ojo Rojo" during this tour!).
...either you get their one-trick pony shtick or you don't. In their defense, they certainly know which pieces of the 70s to distill…
Let's enumerate the ways Fu Manchu celebrates 70s-style excess on Go For It…Live!:
When they finally decide to release a live album, it's a double album.
Both album closers clock in at well over seven minutes.
A drum solo is featured in one of the aforementioned album closers ("Anodizer").
A masturbatory laser/space sound guitar freakout is featured in the other album closer ("Saturn III").
Heavy use of a cowbell in "Laserblast," "Mongoose," "Tilt," and other songs too numerous to mention.
Every song is driven by a small handful of heavy riffs - no Puss Metal™, no chord strumming (I don't really need to hear "Free and Easy (Summer Girls)" anyway), no fluff.
Every song's lyric deals with tricked-out vans, skateboarding, or poorly-developed science fiction themes (even the album's title is taken from a 70s skateboarding flick).
Their killer cover of Blue Oyster Cult's "Godzilla" (a West Allis High wrestling team favorite, the studio version is featured on the Man's Ruin EPs Godzilla/Module Overload and Godzilla's Eatin Dust, the latter a rarity until reissued by Cargo).
Excessive wah wah/envelope filter use in "Boogie Van" and "Asphalt Risin'."
Numbers six and seven above almost obviate the need for reviews of any Fu Manchu album; either you get their one-trick pony shtick or you don't. In their defense, they certainly know which pieces of the 70s to distill – a friend and I have commented on how we'd much rather listen to "The Wastoid" fourteen times in a row than listen to Frampton Comes Alive! once through, or their cover of "Jailbreak" than any full Thin Lizzy album…
The albums sound great, with high energy performances and high audio quality throughout. Scott Hill's vocals are so raw and up front that if speakers could spit, you'd be wiping your face down. That's saying a lot considering his normal lazy, too-stoned-to-give-a-damn vocal style!
The only disappointment here is strictly from a stoner metal geek's perspective: Brant Bjork (ex-Kyuss) vacated the drum throne right before this tour, so we "only" get his replacement Scott Reeder ("only" in quotes as he is quite competent). Oh, and we don't get the Frampton-crushing vocoder of "The Wastoid"...