Disgrundled by the Grundles, reviewed by John Riebow
---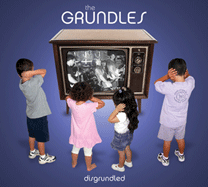 Disgrundled, the third release from Philly-area favorites the Grundles, gets off to a strong start with the wry social commentary "Freakshow." A track with caustic lyrics and grungy guitar work, it is reminiscent of the Replacements at their best. "Look at me / I'm a freak / Won't you put me on TV? / Phone your family and friends / I'm the show that never ends."
The comic reflection turns to pathos in "Nothing Goes as Planned," a song that contains bouncy guitar riffs and great harmonies between vocalists Ted Felix and Andrew Dolan - typical of the Grundles' infectious popcorn-rock style. The fingerprints of producer/long-time Philly music staple Brian Bricklin are all over "Here is Where We Are." The use of the stacked vocals and instrumentation reflects the Grundles' Philadelphia-area roots in a song that is a summation of a stalled relationship.
"Headache" features...a bouncy ska style that reminds one of a long-lost Camper Van Beethoven effort…
"White Trash Blues" is a tune with shades of Husker Du from the Warehouse: Songs and Stories era, and guest keyboardist Howie Gordon's subtle work fleshes out the track most pleasantly. The strong sense of characterization in "Bring You Down" harks to Rhett Miller's writing style, so that one is drawn to the "I told you so" theme. "One word of wisdom to cast you in kind / A pearl so lovely can't sanctify a swine." "Crazy On My Mind" features an alt-country/Grateful Dead amalgamation. The production values are some of the best on the album, which takes an abrupt shift of style with the following track. "Casualty" is a great punk rock homage that would not be out of place on the Clash's self-entitled album. Listening to this track makes it hard to believe that the Grundles are from Philadelphia, and not some gritty backwater neighborhood of London's East End. "Headache" features some really great sarcastic lyrics ("Your boyfriend is somebody who / Would beat me if he knew / I was here with you / I like the love / But look bad in black and blue") and a bouncy ska style that reminds one of a long-lost Camper Van Beethoven effort.
For those who are familiar with the band, "Turnaround," with its effervescent guitar riff and distinctive vocal performance, is an instant Grundles classic. The track epitomizes the group's effective use of basic rock music staples and harmonies, making even those of us with two left feet want to get out on the dance floor and shake something. "Let You Know" rounds out Disgrundled quite satisfyingly, once again on the strength of the punchy riff and harmonies.
Drummer Tom Viscurso and bassist Tom Jadico give solid performances throughout Disgrundled, laying strong foundations on which the talented foursome reach for gratifying heights. It's also pretty damn obvious to those listening to Disgrundled that these four guys are having a lot of fun. In these days of the long-play CD, ten tracks seem hardly enough to satiate one's jones for intelligent power pop - but Disgrundled comes highly recommended.