The Instigator by Rhett Miller, reviewed by John Riebow
---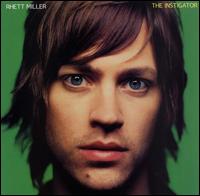 Texas-born Rhett Miller, who fronts the alt-country band the Old 97's in his spare time, is right on target with the late-2002 release of The Instigator. Miller's first solo record is a straight out pop/rock fest, full of catchy songs that would make XTC's Andy Partridge swoon with envy. The tone of the album is not far removed from that of the Old 97's brilliant 2001 release, Satellite Rides. Up-and-coming producer Jon Brion, who as worked with Macy Gray and Aimee Mann to name a few, has virtually partnered with Miller on the effort. Brion plays various instruments throughout the album and co-writes one of The Instigator's strongest tracks.
The release begins with "Our Love," an immediately satisfying pop gem with tickle-your-toes guitar work and sing-along lyrics:
Our love's so vast, our love's so fast, our love's all wrong, our love goes on and on.
"Things that Disappear"...features Miller stretching his vocals a bit, giving an echoed howl that's more subtle than anything you'd hear from Robert Plant.
Miller's earnest delivery encourages one to join in on the fun. "This is What I Do," with it's spiraling guitar hook and spasmodic drums, is as strong a follow up track as any - it would have been considered a second "A" side in the days of 45 rpm single releases. Another standout track on the record is the brilliant angst-ridden "Come Around," in which a post mortem of a failed relationship yields:
I'm dressed all in white and I remember the night you came on to me and opened up my heart. I was hollow then 'til you filled me in, now I'm empty again. I should have never let it start.
"Things that Disappear" is a solemn testament to the fact that nothing is as permanent as it seems. It features Miller stretching his vocals a bit, giving an echoed howl that's more subtle than anything you'd hear from Robert Plant. The song, which was co-written with producer Jon Brion, features a nice acoustic carry-along melody. The godfather of avant-garde pop, Robyn Hitchcock, lends a hand with some guitar work and lovely background vocals on the haunting "Point Shirley." The woeful tale of watching a friend weather a stormy relationship has never been so poignant:
My friend is trapped in a shame spiral. I'm worried about my friend's survival. Waiting around on the sea to collapse. Sticking his foot in his own traps. You gotta get out of Point Shirley.
"Four-Eyed Girl" and "Hover" are two gratifying rockers under three minutes in length. The second features an almost bouncy melody line and rolling vocals:
You come and you glow and you hum and you hover. I cannot believe that you're my lover.
The knee-slapper track on the record is "The El." Its marching band drums and baritone guitar reveal the slightest hint of Miller's alt-country roots, and a lyric reflects the origin of the album's title. "Your Nervous Heart" is a gripping song because of the subtlety of the drum track and the stark honestly of the singing:
I know the world's a bitch don't get me wrong. You have to give the world the finger, you have to sing a happy song. Making love's by far the better part. Can I kiss your furrowed brow and calm your nervous heart?"
The Instigator comes to a satisfying conclusion with the acoustic ballad "Terrible Vision." The use of female vocalists and overlapping harmonies make the track unique to its counterparts, and one can almost hear a touch of Patty Smyth in the harmonies.
This excellent collection of songs solidifies Miller as an artist with a lot to say. It gives voice to his gripping pop style that we're sure to hear more of in the future.