Snakes in the Head by Voodoo Sunshine, reviewed by G.E. Pedretti
---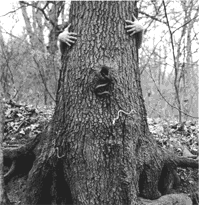 As the title might imply, this isn't a collection of Culture Club remakes or folk songs about growing older and wiser. No, this disc is about struggle, some of it naked and raw ("Kick" or "Mother Opium"), others slow and insidious ("Honey in the Mouth," which makes the moment just before drowning the point of transcendence).
Ed Johnson and his studio cohorts (including veterans of the noise-art world like John Boyle and Chris Zobin) crisply render Snakes in the Head in a fairly psychedelic, Lou Reed fashion. Sometimes the ghost of the Velvet Underground seems a bit too close to the surface on Johnson's vocals. The song "Storm Seeds" really plays on the aforementioned New Yorker's mannerisms, but by the middle of the disc Johnson pushes us out into more expansive, experimental territory.
"Skies of Easter Island" drifts languidly on a bed of acoustic guitars, feedback, and shortwave radio static. "Sweet as Mothers Milk" and "Silken Static" are sonic collages that bear little resemblance to pop music, yet are far too erratic to fit comfortably in the modern techno movement. They are closer in spirit to the texture (if not execution) of the older free-jazz records of Sun Ra or Albert Ayler.
Hear excerpts from Snakes in the Head here.
What helps make most of this darkness interesting is the ambitious and varied production. While tracking this album, I was continually amazed at Johnson's experimental approach to sounds and instruments – from sampling the genuinely 'industrial' sound of a hammer and chisel, to watching him rhythmically scrape a metal salad bowl across a concrete floor. The result is not just a standard issue guitar/bass/drums rock album but a good headphone disc: lots of layers and sonic candy which are homemade sounding, but incredibly rich. Throughout the layers of this disc, Johnson keeps the focus of the struggle sharp, exorcising the demons from his head. "Empty your mind," he sings, "there's a whole new set of rules to learn." And the time will come when that new set of rules will need to be bled away too.