You are the Quarry by Morrissey, reviewed by G.E. Pedretti
---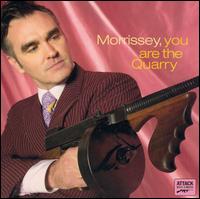 As the cover art and album title easily illustrate, Morrissey is back with a vengeance. Returning after a seven-year hiatus following the poorly received (and promoted) Maladjusted, Moz has delivered one of the hardest rocking and varied albums of his solo career – those qualities commonly attributed to the production of Jerry Finn (who rather shamefully has worked with Blink 182 also!) and the introduction of keyboards in major roles, respectively. Heavily processed, nearly trip hop drum beats show up in a few places also, adding to the idea that Morrissey is definitely stretching the boundaries of his sound.
From the refined melodic trilling in "America is Not the World" to the mellow falsetto in "Come Back to Camden," there is no doubt that the Mozzer's voice is in fine form. Traditionally the area of "love it or hate it" in Smiths/Moz acceptance or fandom, Morrissey's sometimes grating baritone is completely smooth here, with no objectionable qualities. The falsetto of "Camden" is so far removed from the twenty-something yelps of the Smiths' "Miserable Lie" that one would think they came from a completely different person. Forty-something sounds like it will be fine for Morrissey's voice, but the real fans want to know: Can he still write lyrics?
I love it when meatheads like Henry Rollins comment on Moz…
Morrissey is quite simply the most literate, well-read, poetic lyricist of rock music, ever. The cursory or unintelligent listener often comments, "What is this miserable, depressing shit?" while missing countless layers of complexity. I love it when meatheads like Henry Rollins comment on Moz; anyone who thinks Morrissey is depressing or for depressives only is an idiot. Morrissey's subtexts of humor, characterization, irony, and Wilde-level wit continually reward the well-read, intelligent listener, much like the sounds in Dark Side of the Moon or OK Computer: you find something different with every listen. Of the artists which I first embraced in my high school examination of indie and (at the time referred to as) college rock sounds, the Smiths are the only band which I still actively listen to, because of the perennial rewards in the layers of both Marr's guitar playing and the Mozzer's lyrics.
I am making a point of these continual rewards now, because the comments that follow are written on the first day I have owned the album – an almost meaningless unit of "Morrissey time." But I will try to make this meaningful….
The album primarily contains heartfelt tales of alienation with pleads for love, or the poison pen letters that the Mozzer is famous for. In the former category, "The World is Full of Crashing Bores" is reminiscent of "Tomorrow," the finest single of Moz's career. In the latter category, song titles like "I Have Forgiven Jesus" and "America is Not the World" are quite self-explanatory.
In "America" the Mozzer comes off a little too politically correct. Fans might interpret this as a direct counter to the early 90s controversy of Finsbury Park, where Morrissey draped himself in the Union Jack and used backgrounds which included an image of two skinheads. He was later accused of being a right-wing racist by a rabid UK press, who proceeded to second guess every Moz lyric past and present within that context.
Where the president is never black, female, or gay
And until that day
You've got nothing to say
To me to help me believe
In America
Yes, that's quite a bit more ham fisted than typical Morrissey! The response to Finsbury Park seems to continue in "Irish Blood, English Heart," specifically the mention of the flag:
I've been dreaming of a time when to be English
Is not to be baneful
To be standing by the flag not feeling shameful,
Racist, or partial
I would rather not see precious time wasted on this rubbish – especially if the responses are going to be this literal and clumsy. Those who think there could be a racist, right-wing bone in Moz's body have missed the entire point of his career. Wanting to "hang the DJ" (Smiths single "Panic") or keep "England for the English" (solo career track "The National Front Disco"), just might have to do with estrangement brought on from Top 40/club culture and a romanticizing of a pre-Thatcher England which is quite beyond race, respectively – especially if you take them within the context of Morrissey's entire career.
Other lyrical themes that show up in Quarry include Moz's love for his newfound Latino audience ("First of the Gang to Die," although the live favorite "Mexico" is nowhere to be found), Southpaw Grammar-esque flirtations with working-class violence, his hatred of the uniformed (both law enforcement and judicial, in "The World is Full of Crashing Bores" and "How Can Anybody Possibly Know How I Feel?"), and his distaste for the recording industry ("You Know I Couldn't Last"). The latter song seems to address the legal settlement with former Smith Mike Joyce yet again, albeit in a far healthier, musical, and less insular way than the bizarre "Sorrow Will Come in the End" from Maladjusted!
More has been made of the changes in Morrissey's sound for Quarry than the album actually warrants. The leadoff single "Irish Blood, English Heart" seems like an attempt to cash in on his newfound emo audience, but to be fair Moz has performed songs this rocking before (see Your Arsenal and Southpaw Grammar). Certainly the prominence of the keyboards and the occasional processed beat are new to the Mozzer's fans. But in general, the production is very transparent. "First of the Gang to Die" and "I Like You" are definitely more beefy than the live recordings of the same which have circulated on the Internet, but no more so than any modern studio production. The main thing I must say is: thank you for not making this sound like a Blink 182 album!
See Gary's thoughts on the importance of indie labels here.
A final thing of note here is Morrissey's return to an indie label. The Smiths were the highest profile indie band in Britain during the 80s, scoring several Top 40 hits while maintaining integrity, single selection, and artistic control with their label (in Britain, at least) Rough Trade. It is nice to see Moz back in the indie fold. He has revived one of his favorite imprints Attack Records, formerly a dub and reggae label in the 70s, via the Sanctuary Group. Not only will the Mozzer's records be released on this label, but also music from artists he chooses. This is great news; welcome back to the world of indie, Morrissey.